News
Smartphone terror goes global!
Korean remake of Japanese social media techno-thriller is No.1 on Netflix in Asia, No.3 worldwide!
2023.02.22
Unlocked, a South Korean remake of the 2018 Japanese smash hit Stolen Identity, which grossed over JPY 1.9 billion at Japan's box office, hit No. 1 on Netflix in South Korea, Taiwan, Vietnam and Malaysia after it was released on February 17. It also ranked No. 2 in Thailand, Philippines, Indonesia and Hong Kong, No. 3 in Singapore and within the top 10 in various South and Central American countries, Middle Eastern countries, Poland and Portugal (a total of 34 countries with top 10 rankings based on rankings released by Netflix). As of February 22, it also ranked No. 3 in the non-English films category worldwide on Netflix.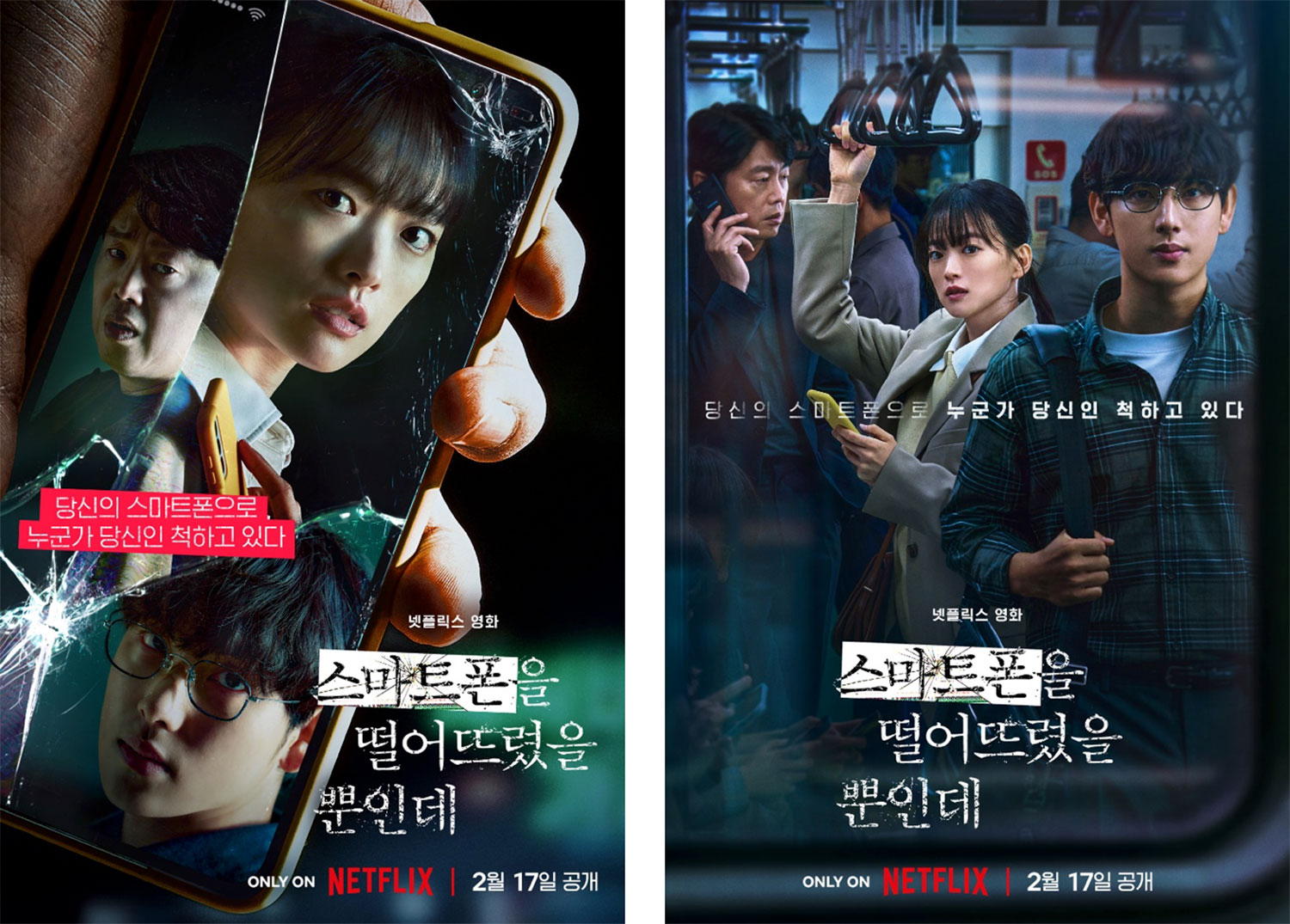 Promotional visuals for Unlocked released by Netflix

Based on the best-selling novel of the same name by Akira Shiga and published by Takarajimasha Inc. as part of the Kono Mystery ga Sugoi! (This Mystery is Excellent!) award series, Stolen Identity is directed by Hideo Nakata and stars Keiko Kitagawa, Yudai Chiba, Ryo Narita, and Kei Tanaka. In this genre-busting social media techno-thriller, a lost smartphone sets off an escalating chain of terror, ranging from stolen data to online stalking, identity theft and ultimately attempted murder at the hands of a serial killer named Black Hacker. The movie's portrayal of our all-too-familiar modern fears and its surprising plot twists made Stolen Identity a box-office sensation in Japan. The 2020 sequel, Stolen Identity 2, starring Yudai Chiba and Mai Shiraishi as a detective and his fiancée, who falls prey to Black Hacker, pushed box office receipts for the series to over JYP 3 billion.
Stolen Identity's ripped-from-the-headlines realism and cross-generational fan base proved highly marketable abroad, and the film's Japanese producers soon began receiving offers for the foreign-language rights. TBS, which oversaw planning and production of the Japanese version, served as contact for the foreign-language remake. After fielding offers from multiple studios, MIJI and Studio N were chosen to co-produce the South Korean version. Unlocked, starring Yim Si-wan, Chun Woo-hee, and Kim Hee-won, adds a surprising twist to the familiar ending but in so doing gives birth to a new world of technological terror.
Unlocked, a Netflix Film 
Yim Si-wan burnished his reputation with a captivating performance as the villain in Emergency Declaration. InUnlocked, he radically transforms himself yet again for the role of Jun-yeong, a killer who embarks on a bizarre crime spree after finding a lost smartphone. Chun Woo-hee mesmerized audiences as a girl who witnesses a shocking murder in 2016's The Wailing. Here, she lends her originality and individuality to the role of Na-mi, a marketer for a startup who loses her phone. In addition, Kim Hee-won, a veteran of the South Korean film industry best known for 2010's The Man from Nowhere and 2017's The Merciless, adds tension to the story as Ji-man, a detective on the trail of a coldblooded killer.
The South Korean film industry has earned worldwide acclaim in the mystery/thriller genre with novel concepts and ground-breaking direction that have earned it the nickname "Korean noir." In Unlocked, Japan's Stolen Identity series is reborn with stylish direction, edge-of-your-seat pacing, and a more complex plot. A new kind of entertainment is born!
In this ripped-from-the-headlines thriller, after losing her smartphone, office-worker Mina finds her peaceful everyday existence disrupted and her identity threatened by a series of bizarre and inexplicable events. Stolen Identity is a terrifying and eminently relatable portrayal of the potential dangers we all face by relying on smartphones to store all our personal and financial data, not to mention intimate details about our private lives. 
Director:Kim Tae-joon 
Cast:Yim Si-wan, Chun Woo-hee, Kim Hee-won
Based on the novel Stolen Identity by Akira Shiga (published by Takarajimasha Inc.)
Production: MIJI 
Co-production: Studio N 
Available worldwide on Netflix
 
Japan promotional visuals for the Stolen Identity series


© 2018 Stolen Identity Film Partners               © 2020 Stolen Identity Film Partners
Stolen Identity
Released in Japan: November 2, 2018 
Director: Hideo Nakata
Cast: Keiko Kitagawa, Yudai Chiba, Ryo Narita, Kei Tanaka

Stolen Identity 2
Released in Japan: February 21, 2020
Director: Hideo Nakata
Cast: Yudai Chiba, Mai Shiraishi, Ryo Narita, Arata Iura


Related release: 
Upcoming Korean Remake of Unprecedented Smash-Hit Social Media Mystery Movie from Japan!
https://www.tbscontents.com/news/1993 (TBS News Release: June 30, 2022)

TBS Online Catalog:https://www.tbscontents.com
TBS Holdings Official Website: https://www.tbsholdings.co.jp/en/
TBS Official Facebook:https://www.facebook.com/tbs.global.business
TBS Official Twitter:https://twitter.com/TBS_prosales